Who is today's teacher?
Here is the final conclusion,
fear God and obey His commands. (Ec. 12:13)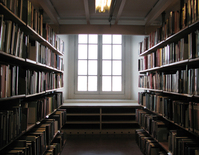 "Teacher was wise, He taught the people everything he knew. He collected proverbs and classified them. Indeed, the Teacher taught the plain truth, and he did so in an interesting way. A wise teacher's words spur students to action, and emphasize important truths. The collected sayings of the wise are like guidance from a Shepherd. But, my child be warned, there is no end of opinions ready to be expressed. Studying them can go on forever and become very exhausting! Here is my final conclusion: Fear God and obey his commands, for this is the duty of every person" (Ecc.12:9-12 NLT).
If you are feeling fragmented by what is happening in our country today, there is a way to be made whole again. It is by obeying the voice of the LORD and guarding His words. Doing so is what makes a whole man or rather what makes a man whole: Receive the words of the Teacher for they are goads and nails sent from the LORD to spur you on, to set things in order in your life, and to prepare you for things to come.
COMMON SENSE
"Listen, as wisdom calls out! Hear (her words) as understanding raises her voice. She stands on the hilltop and at the crossroads. 'I call to YOU. Let me give you common sense. Let me give you understanding. I have excellent things to say and everything I say is right. I speak truth and hate every kind of deception. My advice is wholesome and good. There is nothing crooked or twisted in it'" (Taken from Prov.8:1-9 NLT).
OUR DAILY REQUIREMENTS
"Blessed is the man that hears me, watching DAILY at my gates, waiting at the posts of my doors" (Prov. 8:34 KJV). The word "daily" in this sentence, as written in the Hebrew scriptures appears twice "yom yom." Translated, it means day by day. "Yom yom" connotes something to be done perpetually.
You may say, "I don't have time to daily come into His presence," but I suggest we don't have the "luxury" to not come before the LORD every day. We are all reaping consequences because we have not allowed the TEACHER to teach us how to daily work with HIM. I know this from experience, because I pray for people everyday who are reaping consequences from their daily choices.
Each day we are presented with gifts. These gifts are the voice of the LORD and the DAY itself. We can miss the voice of the LORD and not realize our failing until later. If we continue to chart our own course without His wisdom, we will continue to fail. "God keeps renewing the promise and setting the date as today, just as he did in David's psalm, centuries later than the original invitation. Today please listen, don't turn a deaf ear" (Heb. 4:7 MSG). We are not to be stiff necked and obstinate, walking forward without His counsel. Wisdom tells us that those who seek the LORD early will find Him (Prov.8:17 NLT).
Our lives can change dramatically for the better this coming year by understanding the word "YOM." Only the Spirit of the LORD can teach us how to understand the importance of a day and how to apply our hearts to the wisdom of living in that day (Psa. 90:12). It is His Word that daily spurs us to correct action and the appropriate timing for that action.
"He who observes the wind [and waits for all conditions to be favorable] will not sow, and he who regards the clouds will not reap"(Ecc.11:4 AMP). You may be waiting for an opportunity to arise that may never come, or ever be better than the one at hand, because you did not understand how to work with the LORD in the DAY. His desire is for us to hear and increase in learning. John Maxwell said it simply in his book, Today Matters,"You will never change your life until you change something you do DAILY. You see, success doesn't just suddenly occur one day in someone's life. For that matter, neither does failure. Each is a process. Every day of your life is merely preparation for the next. What you become is the result of what you do today."1 Wisdom is crying out and lifting her voice.
GETTING STARTED
God never forces anyone to come to Him on a daily basis, or at all for that matter. He does, however, give us a daily personal invitation to step into His world of revelation and mystery. Once you take time to quiet your soul, sit with Him and read His Word, you can enter into a dialogue with Him. You can ask Him questions. Take time to listen to His answers. HE WILL ANSWER. "Call to me and I will answer you. I'll tell you marvelous and wondrous things that you could never figure out on your own" (Jer. 33:3) (MSG).
Through this process of sitting with Him early, He begins to reveal to you your true self, and all you need to become a fulfilled person. If you make seeking Him your new habit, you will sense Him working in your life, training you, directing you, comforting you, and admonishing you. You will learn how to operate in grace. Grace is never ending. Grace gives you full rights to sit before Him, and then be rewarded with the wisdom necessary to abundantly succeed in every area of you life.
May this be your year of wisdom and understanding. May it be sweet and prosperous for you.
Blessings and honor,
P/Karen
_______________________________
Maxwell, John C. "2." Today Matters: 12 Daily
Practices to Guarantee Tomorrow's Success. New York: Warner Faith,
2004.19. Print.