UNITY - A MARK OF PROGRESS
"That they all may be one" (John 17:21)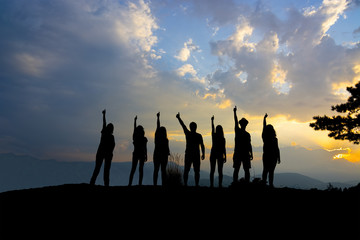 The world will recognize that Jesus Christ is LORD, and was sent by the Father …. when we walk in unity. One of Jesus' spoken desires is that we be joined together as one with Him and the Father. Only then can we can become one with each other. This can only happen by our repenting, yielding wholly to the Spirit of God, and obedience to His Word.
After long hours of prayer and fellowship with the LORD, two words were revealed to me: "consecration" and "unity." Jesus has always wanted unity; and He never changes. When we differ with others in their interpretation and/or application of the Word, we cannot let that difference cause disunity. Out of habit and often without realizing it, we make unspoken judgments in our hearts against others. Because we are so accustomed to reacting to others in a habitual fashion, we may be ignoring that our judgmental response to differing interpretations of God's Word is negatively affecting our personal walk with Him.
Paul exhorted the Corinthians to speak the same message; that there be no divisions among them; that they be perfectly joined together in the same mind and in the same judgment. (I Cor. 1:10). He told the Ephesians to endeavor to keep the unity of the Spirit in the bond of peace. (Eph.4:3). The Apostle Peter said the same thing. "Be all of you of one mind, having compassion one of another, love as brethren" (I Pet. 3:8).
EXHORTATIONS TO UNITY
It is possible to "forget" old differences. "The envy also of Ephraim shall depart, and the adversaries of Judah shall be cut off: Ephraim shall not envy Judah, and Judah shall not vex Ephraim" (Isa. 11:13).
Harmony can exist between leaders of different camps or within the same camp. "Thy watchman shall lift up the voice; with the voice together shall they sing: for they shall see eye to eye, when the LORD shall bring again Zion" (Isa. 52:8)
Repentance can unify believers. "In those days, and in that time, saith the LORD, the children of Israel shall come, they and the children of Judah together, going and weeping: they shall go and seek the LORD their God" (Jer. 50:4).
Everything that has separated believers can be removed in Christ. "For He is our peace, who has made both one, and has broken down the middle wall of partition between us" (Eph. 2:14).
HEBREW WORD PICTURE OF UNITY
When we are united with one another, we are creating a strong fence of protection. The Hebrew word for unity is ECHAD made up of the ALEPH, CHETH and DALET. Combined this means to "strongly fence the door."
ALEPH - strong ox
CHETH - fence
DALET - door
We are not strongly fencing just any door. We are strongly protecting our brother's door.
The Hebrew word for brother is ACH made up of the ALEPH AND CHETH. This is hidden in the word above for unity.
We are our brother's keeper. (Gen. 4:9)
"I in them, and you in me, that they may be made perfect in one; and that the world may know that you have sent me, and have loved them, as you have loved me" (John 17:23).
With love,
P/Karen