PRAISE CREATES VICTORY
"And when they began to sing and to praise, the LORD set ambushments against the children of Ammon, Moab, and mount Seir, which were come against Judah; and they were SMITTEN" (II Chrn. 20:22).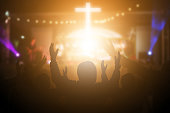 Please be reminded that whatever we may be facing in this country and in our personal lives, we are to continue to praise God without ceasing, We must remember the story of Jehoshaphat in II Chron.20, who being surrounded by the enemy, believed the word of the Prophet who instructed the children of Israel to sing and praise, the LORD. As they began to praise, the Lord set ambushments against the enemy and the enemy was smitten.
Praise is an complex and powerful word in the Hebrew language. One of the words for "Praise" is the Hebrew word "Yadah." When we are praising (yadah) the LORD, we are not only lifting our hands and our voices in thanksgiving, but according to the Hebrew definition of "Yadah," we are shooting arrows. God uses us to shoot spiritual arrows when we are in praise. Praise is a weapon of war against the forces of evil in this earth.
In Psalm 149:6, the Lord gives us wisdom keys for victory. "Let the high praises of God be in their mouth, and a two-edged sword in their hand" (Psalm 149:6). Praise and warfare go hand in hand. In Hebrew Scripture, Psalm 149:6 declares that the "exaltation of God is in the throat of them." We are called to take up the two-edged praise sword against the enemy. According to the Book of Ephesians the two-edged sword is the Word.
God is not a man that He should lie. He has spoken through His prophets regarding the present circumstances in our country, and He will perform His Word. Psalm 149: 7-8 is a picture of divine vengeance against those evil workers who will not follow God. The reason for this warfare is "To bind the enemy's kings with chains, and their nobles with fetters of iron" (Psalm 149:8).
In Acts 16, we read of Paul addressing a woman with a spirit of divination. (Acts 16:16-19) Divination in this sentence defines a python spirit. A python spirit is operating over America right now, trying to squeeze the very life out of God's people. Once the spirit was expelled from the lady with the spirit of divination through Paul's command, the magistrates of the city rose up against Paul and Silas and cast them into prison. There was a temporary price to pay for their boldness. At midnight Paul and Silas prayed and sang praises unto God. "And suddenly there was a great earthquake, so that the foundations of the prison were shaken: and immediately all the doors were opened, and every one's bands were loosed" (Acts 16:25-26). Their praises freed them from captivity.
As we, the Body of Christ, continue to praise God, we WILL see Him rise up on our behalf. "For the LORD shall rise up as in mount Perazin, He shall be wroth as in the valley of Gibeon, that He may do His work, His strange work; and bring to pass His act, His strange act" (Isa. 28:21). May we not be alarmed by God doing things in ways that are "strange" to us.
If we, God's people, will stop listening to, and worse, receiving prognostications from the media and instead begin to praise the Lord, we will receive the revelation we need to see what is really happening behind the "media screens." If possible, please go to elijahstreams.com on Facebook and watch Johnny Enlow's most recent interview with Steve Shultz. It will give you MUCH hope and a renewed reason to rejoice.
Love,
P/Karen