DO I HAVE TO CHANGE?
"And God said to Jacob, Arise, go
up to Bethel, and live there" (Gen. 35:1).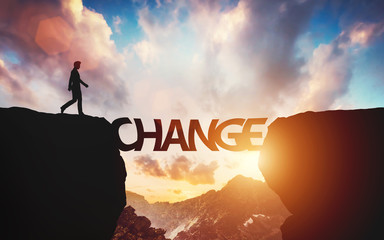 This week marks the end of the Fall Feasts and the start of another God-ordained cycle - a new year. The Torah readings will start over at Gen. 1:1 and continue through the year. These cycles are a prophetic picture for us in the body of Messiah. New cycles bring the hope of change.
We are now in the Hebrew year 5780, another year in which we can allow ourselves to be transformed into the image of the Messiah. New cycles with new circumstances can be both exciting and challenging at the same time.
This message is directed to the believer who wants the keys that open the doors to successful change. Change can be exciting. Change requires keen circumspection. On the cautionary side, some may be aching for change so desperately that they are tempted to take drastic measures to achieve that change.
In both man and woman, believer and non-believer, there seems to be some degree of discontent, sometimes precipitating an explosive cry for change. We sometimes go to great lengths to change our earthly environment. We may move into a new home, buy new clothes, have a personal makeover, lose or gain weight, yet we still feel empty, void of Heavenly peace and contentment. The change the LORD desires for us is a change within our minds. This can only happen one way, and that way takes much desire, diligence and discipline.
Effective change requires motion and action. For beneficial, lasting change, we must start with something small. God said to Jacob, "Arise, go up to Bethel, and live there" (Gen. 35:1). Jacob had to take this first step. He had to get up and stir himself to action. The Apostle Paul instructed his spiritual son, Timothy, to stir himself. "Wherefore I put you in remembrance that YOU stir up the gift of God, which is in you by the putting on of my hands" (2 Tim. 1:6).
The gifts of God in our lives are as logs in a fireplace. If the fire is not fed and properly tended, it can die out. Some of us may only have a tiny ember left in our life, and no energy to stir the ashes or re-kindle the flame. Today the breath of the LORD is here to re-fire our flame and breathe His stirring breath upon our weary soul.
From Shechem To Bethel
Jacob had been living for many years in Shechem (the place of burdens). At a certain time, the voice of the LORD called him to return to the place where he had a dream. In his dream he saw a ladder that reached into heaven. This ladder connected heaven and earth and is the place where angels ascend and descend. The ladder is Jesus Christ, The Messiah. In the place Jacob called Bethel, "The House of the LORD," the LORD told him He was with him, and would keep him wherever he went (Gen. 28:15).
The LORD promises all of us that He is with us and will never leave us, that He is our ever present helper (Heb. 13:5-6). Perhaps, because of many years of trials and burdens, we may feel the LORD has abandoned us, forgotten us and left us in a hard place. The thought of taking a step out of that trouble land of Shechem, may seem exhausting or even impossible. The carnal mind is hesitant to change because of fear of the unknown; a false security with familiarity, and the fear of not being able to manage the change. The truth is that change requires us to think differently!
Change Your Garments
Once Jacob took the first step out of Shechem, he was able to advise his family and company to follow him. He gave them these instructions:
(1) They are admonished to "put away strange gods among them" (Gen. 35:2). Some of those strange gods were the belief that amulets and charms could protect them from evil and even cause them to know the future. Isaiah the Prophet warned strongly against these practices. "In that day the LORD will take away the beauty of the ankle-bracelets, and the headbands, and the crescents, the pendants, and the bracelets, and the veils; the headdresses, and the leg ornaments, and the sashes, and the houses of the soul, and the amulets" (Isa. 3:18-20).
(2) "Be clean and CHANGE your garments" (Gen. 35:2). Change is the Hebrew word chalaph. Chalaph means to be pierced, changed, altered, renewed; to sprout. Let's take stock in ourselves. Are our garments soiled from hard testing, trials, disappointment and discouragement? Is the temptation to doubt God shouting in our ears?
How To Change
The first thing we must do to start the process of change is to take "the first step." Abraham took his first step when he left the Ur of the Chaldeans. He obeyed the voice of the LORD by faith and walked into the world of the unknown. He totally trusted the LORD and His ability to lead him forward. Moses took the first step into becoming a deliverer by obediently taking off his shoes. David became a King by first obeying his father's instruction to check on his brothers' welfare.
Jacob is told to ARISE, GET UP and DWELL/ABIDE. Jesus says the same thing, "Abide in me, and I in you. As the branch cannot bear fruit of itself, except it abide in the vine; no more can you, except you abide in me" (John 15:4).
The key to change is found in the Hebraic understanding of Isaiah 40:31. They that wait (qavah) upon the LORD shall renew/chalaph their strength. Qavah is a beautiful Hebrew word meaning to be twisted together strongly (with The Lord) like a rope. For us to change and develop strength of character in our lives we must bind to, tie to, and weave our lives into Jesus. We do this by having a personal, face-to-face relationship with Him (through the study and understanding of His WORD), avoiding all performance for its own sake, or any form of insincerity. In His presence, we are free to be ourselves, and in that place, He changes everything in and around us that needs to be changed. Those who are bound to a relationship with the LORD WILL chalaph/change. This change brings renewed life, a sprouting of hope, and the fruit of our labors that we have so longed for.
Please pray with me, "We desire change, Lord. May we twist our lives together with You in the secret place and allow You to change all that needs to be changed."
I pray renewal of strength for all of us. May we come out of our trouble/Shechem and enter into our Bethel, the place of abiding with Him. May we step forward in this new year, this new cycle, with great anticipation, seeking and expecting great things.
Blessings,
P/Karen