THE BATTLE
"Wherefore take unto you the whole armor of
God, that you may be able to withstand in THE EVIL DAY" (Eph. 6:13).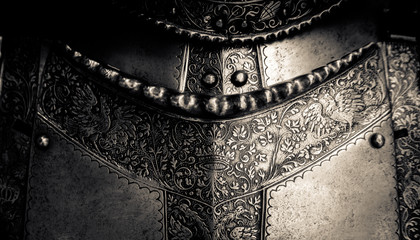 Most of us would agree that we are in evil times and the battles have become fierce. We thank God that His Word is filled with wisdom and strategy on how to walk through every battle victoriously. We heard the Word of the LORD at OTC this past Sunday on the topic of "THE BATTLE" and studied a definitive chapter from Deut. 20, on how to plan for, and execute effectively at each stage of the battle.
Before we go to Deut. 20, let us examine the word "battle" in Hebrew and its root meaning. Battle is the word "Milchamah." The root of the word battle is "lacham." Lacham is structured with the Lamed, the Cheth, and the Mem. The Lamed, Cheth and Mem spell the word "BREAD" (Lechem). From an Ancient Hebrew perspective, in the battle (milchamah), we find our bread (lechem). What does bread have to do with a battle? We can see the answer in picture form by examining the process of making bread. We must first mix the flour and the water together in order to make the dough. Then comes the vigorous process of kneading the dough. Kneading is a form of war in the sense of having to "fight" with the dough in order to produce a proper loaf. Whether making bread or battling in war, we are in a struggle for our lives. Without food, we perish; without victory in battle, we perish.
STRATEGY FOR WARFARE
In Deut. 20, we receive the strategy for warfare. "When you go out to battle against your enemies, and see horses, and chariots, and a people more than YOU, be not afraid of them°" (Deut. 20:1). We have no choice but to learn how to walk through every battle fearlessly, because we are commanded by God, NOT TO FEAR.
From experience, we all know this is not easy to do, especially when faced with critical and overwhelming circumstances. In Deut. 20, we see that the priest in every battle would approach the people and speak these words, "Hear O Israel, you approach this day unto battle against your enemies: let not your hearts faint, fear not, and do not tremble, neither be ye afraid because of them." For the LORD your God is He that goes with you, to fight for you against your enemies, to save you" (Deut. 20:3-4).
The Rabbis have taught that if we don't strive for the victory in every battle and do not fight with all of our heart and soul, we are guilty of shedding our brother's blood. The officers spoke to the people before a battle asking if any man was fearful and fainthearted. If so, the man was commanded to return unto his house, lest he cause his brother's heart to faint as well. Being fearful would be considered transgressing the command of God, that is to TRUST Him with all of our hearts.
We must never allow the fear in others to influence us. Fear can be contagious and contaminates the soul. Fear is tormenting and increases the size of our enemy in our mind. Fear can cause us to forfeit all that is waiting for us in our promise land. We have not been given the spirit of fear, but of power, love and a sound mind. (2 Tim. 1:7) Fear creates a barrier and changes our focus. I learned from other teachers over the years, that it is not the giants that are a threat, but our fear of the giants that destroys us. The giants must be conquered, and fearless warfare is necessary for the victory.
Remember these keys. They apply whenever we are facing a battle. Personally, every victory in my life has come from believing the Word, standing on the Word, and speaking the Word back to the LORD. He has taught me that once I had His direction through His Word, I was to never give up. He has always given me the strength to battle, or the patience to let Him war for me.
Victory in battle, is
By faith. Heb. 11:33-37; I John 5:4-5 1

From God. I Co. 15:57; 2 Cor. 2:14 1

Over all that exalts itself. 2 Cor. 10:5 1

Over the devil. Rom. 16:20, 1 John 2:14 1

Over death and the grave. Isa.25:8; 26:19; Hos. 13:14; 1 Cor. 15:54-55 1

Over the sinful nature. Rom. 7:24-25 1

Through Christ. Rom. 7:25; 1 Cor. 15:27 1

Triumphant. Rom. 8:37; 2 Cor. 10:5 1
Whatever we are facing today, we must remember that it is the LORD who contends with our enemy. "For the battle is not yours, but God's" (2 Chron. 20:15).
Blessings,
P/Karen