How To Enter The Gates Of Heaven
"Enter into His gates with thanksgiving,
and into His courts with praise;
be thankful to Him, and bless His name." (Psa 100:4)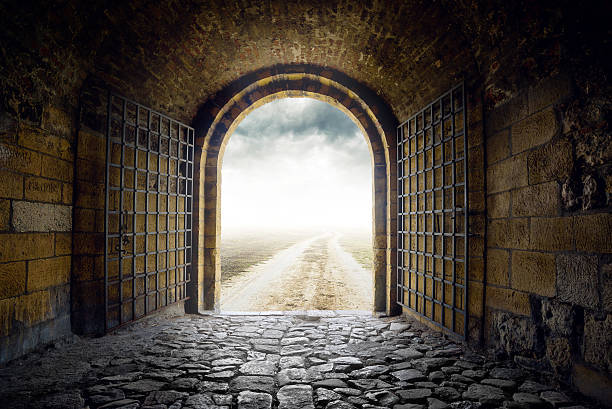 There is one way and one way only to enter into the gates of Heaven, and that is with a joyful noise of thanksgiving. Psalm 100 is a beautiful instruction manual for how to come before the presence of the LORD. Psalm 100:1 says we are to make a joyful noise. Noise in this sentence means that we are so loud, it's literally ear spliting. Over the years, it has baffled my mind how people can go to a football game or concert and scream so loudly, you "can't hear yourself think." The same people then think it strange to see worshipping believers make a loud, joyful noise unto the Lord.
When Paul and Silas were imprisoned for casting a spirit of divination out of a woman, they were put into the inner prison with their feet held in the stocks. At midnight Paul and Silas began to pray and sing until there was an earthquake. This shook the foundations of the prison, caused the prison doors to open, and the bands on all the prisoners to be loosed. I imagine they sang with considerable volume as the joyous sounds filled not only the inner prison but the entire structure. I speak this word today to bring to your attention that God wants your heart and your mouth to be grateful and rejoice. As we become so, we readily discover that it is impossible to rejoice and complain at the same time. (An answer to the question: "How do I do this?")
Some of us reading this letter may need a sudden earthquake in our life to cause us to be delivered from any religious bondage. This will come by our praise and thanksgiving. Our praise can cause others to be set free or become barren and unfruitful. The story of King David recovering the ark of the covenant from Obed-edom's house demonstrates a grateful and thankful, forgiven King. As his wife Michal, Saul's daughter looked through a window and saw him leaping and dancing before the LORD; she despised him in her heart. This is a very powerful picture of a religious/judgmental spirit. David confronted his wife by saying "It was before the LORD, which chose me before your father, and before all his house to appoint me ruler over the people of the LORD, over Israel; therefore will I play before the LORD, And I will yet be more vile than this, and will be base in mine own sight; and of the maid-servants, which you have spoken of, of them shall I be had in honor" (II Samuel 6:21-22). Because Michal despised her husband's freedom to worship the LORD with all of his might, she was barren until the day of her death. (II Samuel 6:23).
Regarding Thanksgiving
(Taken from So That's In the Bible?, pg. 502-503)
Believers are to:
Abound in the faith with. Col. 2:7

Come before God with. Psa. 95:2

Exhorted to. Psa. 105.1; Col. 3:15

Magnify God by. Psa. 69:30

Resolved to offer. Psa. 18:49; 30:12
Christ set an example of:
Matt. 11:25; 26:27; John 6:11; 11:41
The wicked are characterized by an absence of:
It's our choice. Be a joyful sound, as we are commanded, or don't be. The rewards are too great to miss it here. And the consequences are too dire to choose to be other than filled with recognizable joy.
Blessings and honor,
P/Karen