What About Today?
"Today if you hear His Voice
harden not your hearts." Heb. 3:15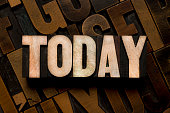 John Maxwell, a former pastor and widely known business and ministry leadership expert, wrote a book called, Today Matters. I am calling our attention to the subject of "today" because of the scriptural importance of understanding it, and because it affects everything that pertains to our lives, our well-being and our future. Joshua 24:15 says to choose daily (today) whom we will serve. Jesus taught the disciples how to pray daily (today) in Matt. 6:9-13. I am persuaded that the LORD wants His people to understand the principle of "today," and how understanding it brings the success for which every man and woman needs. As a pastor, my heart's desire is to see the flock at OTC master the concept, and in fact, that all of God's people master the "today" principle of success.
If the Body of Christ starts walking in their God-appointed calling, whether in the marketplace or in formal ministry, we will begin to see healthy communities developing. As some may have noticed, this is a recurrent theme I present. Hebraic thinking requires us to repeat things over and over until it becomes a part of us, forming in us a "good habit."
John Maxwell writes in Chapter One of Today Matters: "We may think success is Productivity, so we work for it. There are many people who work hard and never see success. Some people give their energy to dead-end jobs. We believe success comes from an opportunity—and so we wait for it. Their motto begins with the words, "if only." If only my boss would cut me some slack. If only I could get that promotion. If only I had some start-up capital. If only my kids would behave then life would be perfect." 1 To rid yourselves of this "if only" habit, we must realize that "You will never change your life until you change what you do daily." 2
In reality, we ARE what we do daily. There is a law of inevitable eventuality. If we eat the wrong foods daily, we will eventually weigh too much or too little, or even become sick. If we continually avoid quiet time with God and personal study of His Word, we will inevitably become bitter and deceived. If we study the Scriptures daily, we will eventually and inevitably become successful. Mastery of the subject, "today" will endue us with foundational truth and will cause us to walk in success. Ignoring this lesson will surely lead to less-than-desirable results and sadly, even to disaster.
When teaching on success, American believers may be tempted to equate the lessons with those of "prosperity preachers" and turn a deaf ear. I want us to master the kingdom principle of success because it is the truth and will benefit us greatly. Real success is much more than finances. God's definition of success will affect our family, health, relationships, values, jobs and much more. Today, if any of us are feeling as if we are floundering without direction, disappointed in our present circumstances, unsuccessful in our attempts, and pretty much a failure, then this brief study can facilitate a turnaround in our attitude and consequently, in our results.
The Hebrew word for success (sakal) is found in Joshua 1:8. The Lord spoke to Joshua telling him that by meditating on His instruction day and night, night and day, (in other words, today) and guarding that instruction, he would become prosperous and successful. This concept of daily meditation and success is also found in Psalm 1:2,3: "But his delight is in the law of the LORD and in His law does he meditate day and night. And he shall be like a tree planted by the rivers that brings forth his fruit in his season; his leaf also shall not wither; and whatever he does shall prosper."
Success (sakal) found in Joshua 1:8 means:
To be circumspect. If we are circumspect we are prudently watching, cautious and guarded. Wisdom teaches us to guard our hearts (mindset) for from the heart are the issues of life. Prov. 4:23 "Keep/guard your heart with all diligence; for out of it are the issues of life." If we are circumspect, we become the watchmen over our own thoughts and protect what enters our mind. Habakkuk 2:1-2 "I will stand upon my watch and set ME upon the tower, and will watch to see what He will say unto ME, and what I shall answer when I am reproved." God speaks and gives instruction daily.

To be intelligent. Some of the synonyms for the word intelligent are brilliant, bright, intuitive, perceptive and discerning. Discernment comes through practice. Heb. 5:14 "But solid food belongs to those who are of full age, even those who because of use have their senses EXERCISED to discern both good and evil. If we become successful in our walk with God, it is because we are learning how to discern.

To be an expert. An expert is one with comprehensive and authoritative knowledge or skill in a particular area. Jesus taught his disciples in Matt. 13:52, that if they could understand His parables they would become as scholars/experts bringing out of their treasures new things and old things. In other words, not only will we understand the ancient paths, but we will receive fresh and new revelation through that understanding. The LORD did not call us to be a jack of all trades. This is proven in I Cor. 12:4-6. There are diversities of gifts, administrations and operations. I Cor. 12:11 tells us that the Spirit divides severally as HE WILLS. I sincerely believe He is looking to make us experts in our specific and authentic callings.
How Do I Do This?
If we are serious about the changes we need to make, we will certainly ask, "How do I do this?" and "How do I get started?" I believe first of all we have to choose to follow God's guidelines. When we discover the patterns for coming into the presence of the LORD and thus position ourselves, He speaks very clearly to us. The Tabernacle of Moses (a type and shadow) reveals a pattern for seeking the face of God and applying it to our daily lives. Below is a sample outline I learned years ago from Dr. Michael Lake. As you begin to slowly practice this, it becomes easier. You will see results.
Steps to Hearing God
Habakkuk knew how to position himself to hear the voice of God. This would include:

Binding the enemy. (Mark 3:27)

Quieting his soul. (Psalm 131)

Learning how he was to come into God's presence. (Psalm 100:4)

How to maintain a humble and teachable spirit. (James 4:10)

He knew how to recognize the voice of God and how God spoke to him. (John 10:27)

God speaks to some in words (i.e. "the Word of the Lord came to me.")

God speaks to some visually (i.e. "Jeremiah, what do you see.") (Jeremiah 1:11)

Dreams (Joel 2:28)

Visions (Joel 2:28)

He was ready to be reproved of God. This is a part of being humble and teachable.

He wrote down what God told him. This left a record for him that he could re-examine, study and even be used by others. 3 (Hab. 2:2)
"Today" is the day of salvation. May we start living our daily life well. Eventually and inevitably we will succeed and enjoy the compounding results of our labor.
Love,
P/Karen
______________
Maxwell, John C. "Chapter 1,2." Today Matters: 12 Daily Practices to Guarantee Tomorrow's Success. New York: Warner Faith, 2004. 19,. Print.

Maxwell, John C. "Chapter 1,2." Today Matters: 12 Daily Practices to Guarantee Tomorrow's Success. New York: Warner Faith, 2004. 5,6. Print.

Michael K. Lake, Th.D., Patterns For Coming Into His Presence- Part I. Lesson Ten: Biblical Life Prayer Dynamics Study Guide. Marshfield, MO. Biblical Life Publishing. 2006. 104,105. Print