The Feast of Passover And Spiritual Applications
"Purge out therefore the old leaven, that ye may be a new lump, as ye are unleavened. For even Christ our passover is sacrificed for us: Therefore let us keep the feast, not with old leaven, neither with the leaven of malice and wickedness; but with the unleavened bread of sincerity and truth." (I Cor. 5:7-8).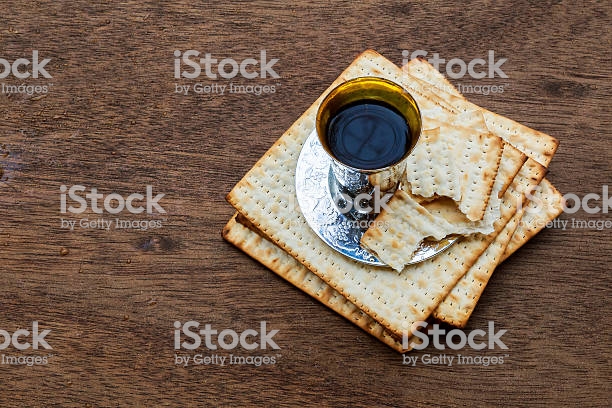 As the children of Israel were delivered from bondage and slavery, we can likewise experience a freshness and newness of life. Old things are being purged and the fresh wind of the Spirit is blowing upon His people. I am very grateful to God for the deep work He is doing in all of us through this time of shutting in.
Moses and Aaron were given complete instructions in Egypt as to how to celebrate the first Passover. In every instruction we're given, we are presented with the process necessary for every man and woman to receive eternal life. God explains repentance of sin, why we must believe in the shed blood of Yeshua, and how to walk in newness of life. In each instruction He gives us, He reveals Jesus, the Messiah, the Lamb of God.
Spiritual Instructions And Applications
Today, I am focusing on the instructions found in Exod. 12:11. The Passover lamb was to be eaten in HASTE." And thus shall you eat it; with your loins girded, your shoes on your feet, and your staff in your hand; and you shall eat it in HASTE: it is the LORD'S Passover" (Exod. 12:11).
1. Loins must be girded. I Peter 1:13 "Wherefore gird up the loins of your mind." In the Eastern culture, men wore long robes. To gird up the loins is a picture of gathering the ends of the robe and tucking them under your belt, as if you were freeing yourself to travel or to run a race. If the gathered ends of the robe were left to flow freely while running, a man would be hindered; he would trip. Loose ends of a robe are symbolic of distractions and disobedience that left uncorrected, lead to failure. Has anything hindered you today from running your race?
Another word picture of girded loins is that of a camel whose knees have been hobbled (tied together) by a rope called an "egal." The rope keeps the camel from rising and wandering away at night. The word of God is to our minds what the rope is to the camel. It keeps us in a place of submission before Him.
2. Shoes on our feet. This is a symbol of our walk with God. If our feet are shod, we are ready and prepared for the journey. "And your feed shod with the preparation of the gospel of peace" (Eph. 6:15). To walk daily with the LORD, we must hear His voice; to hear His voice we must be studying the scriptures. We must be ready for action at all times, walking in the authority and the power of God. "How beautiful on the mountains are the feet of him who brings good tidings, making peace heard" (Isa. 52:7).
3. And our staff in your hand. In the Kingdom of God, we have authority. To prevail against all adversity, we must use it daily. "Behold, I give to you authority to tread on serpents and scorpions, and over all the authority of the enemy. And nothing shall by any means hurt you" (Luke 10:19). A serpent can be a symbol for a malicious person in our life. If this is the case, we must remove ourselves from such people. When we do, we will find that wrong things stop happening. King David had authority to confront his son Absalom about his disloyalty, yet chose not to and consequently suffered tremendously.
4. And eat it in HASTE. The influence of the world around us can affect our ability to walk in godly wisdom. We must turn hastily from the deadly effects of wrong thinking. A powerful story in the gospels teaches us about the benefits of a hasty turning from the ways of the world. Zacchaeus was a chief tax-collector and very rich. He wanted to see Jesus and being short of stature, had to climb a sycamore tree to see clearly. When Jesus came to the PLACE where he (Zacchaeus) was, He said, "Hurry/make haste and come down, for today I must STAY at your house." Jesus is coming to us today, to the place where we are in our situations and in our minds. Once Jesus entered Zacchaeus's home, Zacchaeus confessed his sin, had an immediate heart change and began making plans for restitution to those whom he had wronged (Luke 19:1-9). The appearance of Yeshua will set a person free immediately, and allow them to walk out of dark places of bondage and slavery and into His light.
The Lord never changes (Mal. 3:6). "For He will be like a blazing fire that refines metal, or like a strong soap that bleaches clothes. He will sit like a refiner of silver, burning away the dross." (Mal. 3:2-3 NLT). He is still seeking those who will walk with Him in spirit and in truth (John 4:23). He desires truth in our inward parts (Ps. 51:6).
During this week of Passover, may we all allow The Lord to transform our lives. May any and all of our loose ends be tied up. May we be free to run uninhibited into His arms.
Blessings and love,
P/Karen