HOW TO PRODUCE 100-FOLD FRUIT
"But that sown on the good ground is this: He who
hears the Word and understands; who also bears
fruit and produces one truly a hundredfold; and
one sixty; and one thirty" (Matt. 13:23) MKJV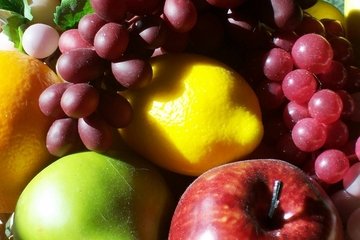 The Kingdom of God is not the kingdom of this world. The Kingdom of God is made up of laws, principles, precepts, concepts, commandments and decrees. How to operate in this Kingdom successfully is likened to planting in four types of soil. We must thoroughly understand the condition of the soil (our hearts) and the nature of the seed planted. God is the husbandmen (farmer) and WE are the farm soil He uses to bring forth fruit (I Cor. 3:9). We are all going to be judged by the fruit we produce. A good tree cannot bear evil fruit, neither can a corrupt tree bring forth good fruit (Matt. 7:18,19). EVERYTHING that grows starts with a seed. The seed in this case is the Word of God (laws, commands, principles, precepts). (Luke 8:11)
Jesus teaches us in Matthew 13:3-8 about four (4) types of soil. These four (4) types of soil are a picture of four (4) types of students/disciples or hearers. If we are to bring forth an abundant harvest in our lives, we must remember first that John the Baptist said, "Produce fruit in keeping with repentance" (Matthew 3:8). Repentance is the Hebrew word "teshuvah" and means that you turn away from one ungodly thing and toward another that is acceptable to God. It means to cease from incorrectness and do correctly.
The Seed And The Four Soils
Seed - The Kingdom Message, The Word of God. (Matt. 13:3)
Wayside - The student who hears the Word, but does not understand it. The enemy is then able to snatch what has been sown. (Matt. 13:4)
Stony Soil - The student who hears the Word, begins to repent, has no root, yields to pressure and becomes offended. (Matt. 13:5–6)
Thorny Soil - The student who begins to repent but is deceived by riches, is distracted by the cares of the world, allowing the sprouting Seed to become choked. (Matt. 13:7)
Good Soil - The student who hears the Word, receives the Word and submits to the heavenly Kingdom. (Matt. 13:8)
Good Soil
Nothing is more important in our lives than good soil. An example of what I am saying has never been more clear to me than what I see in my own life. For years, our front yard would not produce much grass in certain areas. My husband would plant seed and water it every day, only to have it seemingly disappear and leave nothing but dirt. I would pray over the yard and even ask God why our yard wouldn't yield beautiful grass. When one type of seed wouldn't work, my husband would try another variety, yielding the same results, bare dirt, no harvest. I even began to question if there was a curse on the land, even though I had blessed the land. One day our son said, "you need new soil." My husband subsequently purchased the richest soil he could buy and planted again. Today, we have a thick and beautiful lawn. The grass is so lush, our 5 year old neighbor was running through the yard commenting on how soft the ground felt.
My case in point is that without good soil, you can hear the best godly teaching in the world and still remain bankrupt. The prophet Jeremiah speaks about our behavior and land. "For the land is full of adulterers; for because of a curse the land mourns. The pleasant places of the wilderness are dried up. Their course of life is evil, and their might is not right" (Jer. 23:10). Lack of good soil can make us vulnerable to a curse. We are the soil of the earth, and if we have bad or even mixed soil in our lives, that soil (usually prepared by our words) can keep the ground from releasing the crop God promised.
Another case in point is the story of Caleb, Joshua and the ten spies. "And the men which Moses sent to search the land, who returned, and made all the congregation to murmur against him, by bringing up a slander upon the land, even those men that did bring up the evil report upon the land died by the plague before the Lord" (Num. 14:36-37). Caleb spoke good words over the land declaring that they could possess the land and overcome. (Num. 13:30). Caleb had good soil, was able to receive the seed (Word of God) and enter the promised land.
How To Have Good Soil
I believe everyone reading this letter wants good soil that brings forth a rich harvest. How do we as humans get good soil? The answer is a simple one. By obeying God's Word (Kingdom SEED), we are obeying what God calls "GOOD" (Deut. 12:28). "And God saw everything he had made was very good" (Gen. 1:31). That means that God calls man good (very good). We must continue to mix good seed (Word) with good man (soil) to continually produce good crops. By disobeying the Word of God, we not only create an evil environment, but also suffer the consequences of evil. (Deut. 30:15, Romans 7:19). We lose the ability to reap a godly harvest. When man disobeys God, he is mixing "good" with "evil" which results in death EVERY TIME. (Gen. 2:17, Romans 6:23)
My prayer through this teaching is that all the people I mentor will desire to be and work to be the "good soil." Spend time with the Lord and his Word. You will begin to be transformed by the renewing of your mind and yield a great harvest.
Blessings and honor,
P/Karen